About the Spanish Mustang
---
"Colonial Spanish Horses are of great historic importance and are one of only a very few genetically unique horse breeds worldwide."
Dr. Phillip Sponenberg, DVM, PhD
Virginia-Maryland College of Veterinary Medicine, Virginia Tech
---

No other horse in history has had such an impact on the development of America as the Colonial Spanish horse. Often referred to as the Spanish Mustang, Barb, Cayuse or American Indian Pony, they are not to be confused with the wild mustangs the Bureau of Land Management oversees. Like the buffalo, these horses have served many of the nations tribes for centuries and are now close to extinction.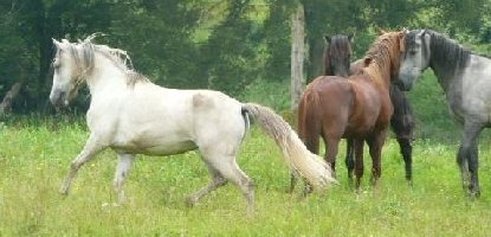 Brought to the New World by Spanish explorers in the 1500's, the small and hardy horses endured centuries of harsh conditions. By the late 1800's the majority of horses were killed after U.S. government attacks on feral and sacred Native American herds. Large, European breeds were introduced into the herds, diluting the Spanish blood. During the mid 1900's the first preservation efforts took place to save what horses were left. Gathered from ranches, reservations, and remote areas of the west, these few pioneering men and woman began breeding their own herds. Approximately 3,000 Colonial Spanish horses exist today. The American Livestock Breeds Conservancy and The Equus Survival Trust have listed this breed status as critically rare.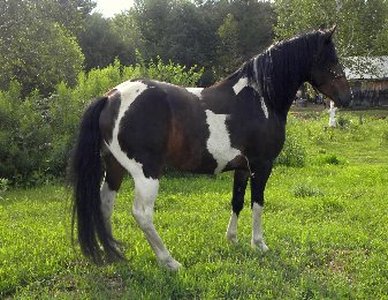 Typically standing 13.2 to 14.3 hands and weighing between 600-900 pounds, they are best known for their endurance, intelligence and versatility. They are proving themselves in the modern horse world in endurance, dressage, jumping, driving and ranching activities. Although considered small horses by today's standards, they can carry up to 30% of their body weight and are suited for children and adults. The Colonial Spanish horse is said to be the most colorful breed. They display all solid and roan coloration such as dun, buckskin, grulla, sorrel, grey and black. Patterns such as overo, tobiano, sabino and appaloosa are common.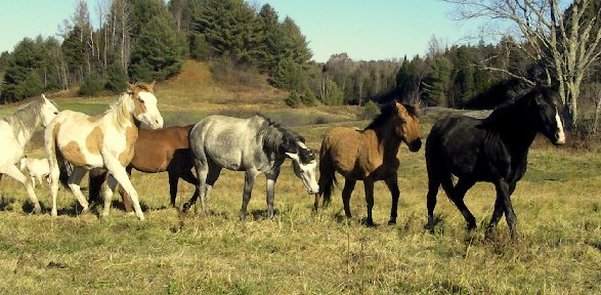 There are no government programs to save these horses, only individuals, organizations, and registries dedicated to their survival for future generations. Please join us in our efforts!

*We are a Vermont non-profit corporation and federal 501(c)(3) non-profit organization.