Building the Future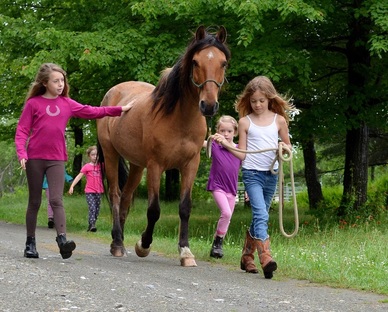 The Center for America's First Horse is located in Johnson, Vermont, a rural farming community nestled in the Green Mountains. The facility which sits on 70 acres is one mile from Johnson State College and is conveniently located between three major resort destinations, Stowe, Smuggler's Notch and Jay Peak. We are 35 miles from Burlington, Vermont's largest city, and less than two hours from Montreal, Canada.
Our facility provides a relaxed, yet professional setting for all ages and levels of horsemanship. We offer an indoor and outdoor arena, equine training playground and miles of trails to explore. The tranquil and private setting is choice farm land with beautiful mountain views and landscape conducive to horse activities. Tours, clinics, and presentations are available year round.
The Center for America's First Horse is home to the largest and most diverse group of Spanish mustangs in the eastern United States, and is also home to equine celebrity "Oscar", known for his role in Disney's epic adventure movie,
Hidalgo
.
The land which houses The Center has been generously donated on a long term lease agreement by owners Gilbert Lopes and Susan Aldrich. Their generous support has enabled the organization to turn a vision into reality. In April, 2010 the land was acquired and with many hours of volunteer help, fences were constructed and our horses were moved to the property shortly after.
---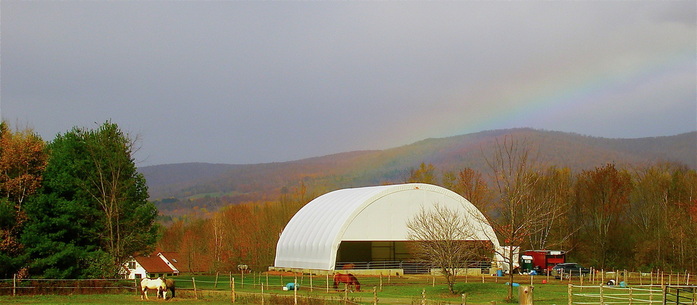 We offer year round Natural Horsemanship education, training, boarding, lessons, Natural Horsemanship for Children programs, summer sessions, on and off site natural horsemanship clinics, educational tours, public events.
The purpose of The Center for America's First Horse is to develop and carry out programs which support:
*
Education and public awareness.

*Genetic Conservation of all strains of this rare and historic breed.

*Rescue and placement of Spanish mustangs in need.

*Natural horsemanship training for riders and horses,
including those seeking therapeutic qualities of interaction with our horses.

*Partnering with schools, state agencies, and communities around the region.
---
In The Center's efforts to serve our community and beyond, we often collaborate with the following organizations, educational institutes and businesses:

Johnson State College, Johnson, VT - Provides accredited courses in Equine Therapy practices. Provides Internship credits for students, assisting them on their path to graduation. Provides volunteer opportunities for students seeking solitude from campus life.

People's Academy, Morrisville, VT - Referral of high school students enrolled in independent study. Many of these students have interned at The Center for one or more semesters per school year.

Lamoille Union High School, Hyde Park, VT - Referral of high school students enrolled in independent study. The Center has provided extra curricular horse opportunities for students who are not interested in team sports, but seek to challenge themselves in a more independent way through horse activities.

Laraway Youth and Family Services, Johnson, VT- Referral of young women ages 16-20 for work study programs, and students in foster care seeking supportive and enriching environment, enrollment of clients in natural horsemanship courses.

Lamoille Restorative Center, Hyde Park, VT - A community-based agency established to address unlawful behaviors, support victims of crime, and promote healthy families and communities within the Lamoille Valley Region of Vermont. Hyde Park, VT- Referral of clients ages 12-18 seeking supportive, life -enriching activities.

Lamoille Family Services, Morrisville, VT – Referral of teenage women seeking supportive, life enriching activities.

University of Vermont Extension 4-H Club, Morrisville, VT - Green Mountain Thunder 4-H Club at The Center for America's First Horse. Young girls ages 10-15 participate in educational horse activities sponsored by The Center For America's First Horse.

VABIR (Vermont Association of Business Industry and Rehabilitation) - A state program to assist Vermonters who face barriers to employment. The Center for America's First Horse has successfully provided work programs to men and women, giving them the confidence and skills necessary to seek employment.



*We are a Vermont non-profit corporation and federal 501(c)(3) non-profit organization.