STEPHANIE LOCKHART-HAYES WORKING EQUITATION

The Center for America's First Horse
Johnson, Vermont

Stephanie Hayes is a Working Equitation clinician, trainer and competitor in the sport. She travels throughout the East conducting clinics and demonstrations to promote this new and exciting riding discipline. For over two decades, Stephanie has taught dressage fundamentals, and Natural Horsemanship in the U.S., Canada, and Europe.


She is the co-founder & President of New England Working Equitation (NEWE), a non profit organization which promotes Working Equitation in the Northeastern United States.

---
Stephanie began her WE training under Suzanne Marshall, and Doina Fisher of Portugal. She has ridden in clinics with WE "S" judges Doreen Atkinson, Polly Limond, Tarrin Warren, Nicole Chastain Price, and with clinician Carlos Carneiro. Stephanie's dressage education has been greatly influenced by her teachers Suzanne Marshall, Miklos Repasi and Lori Barnard.
Stephanie Hayes has been a professional in the horse industry for over two decades as a natural horsemanship clinician, trainer and competitor. In 2017 she attended her first WE clinic and was inspired to incorporate the training benefits into her programs. Stephanie conducts clinics throughout the U.S., co-founded New England Working Equitation, Inc., is a USAWE Recognized Coach, "L" judge candidate and earned her USAWE Pewter medal. She has been awarded National and Regional Championships on several horses at Level 1 through 4, and coached her junior rider to National Championship honors. Stephanie lives with her husband Tim Hayes at their farm, The Center for America's First Horse in Johnson, Vermont where she trains and promotes rare Spanish Barbs.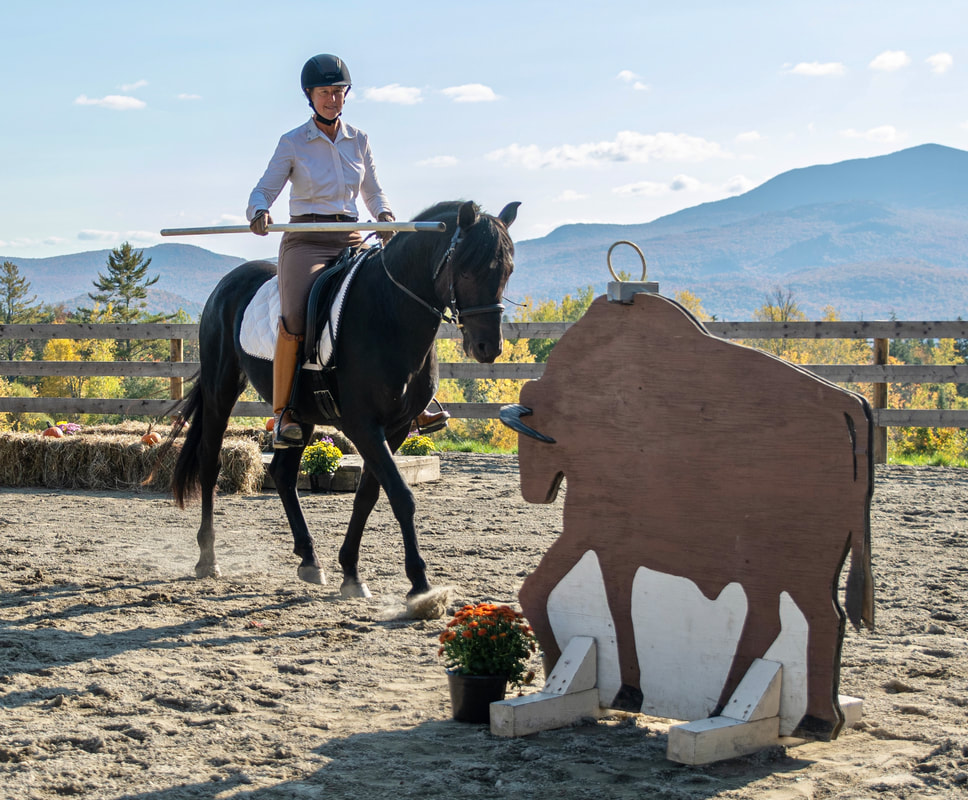 "In 2016 I watched a video of a Lusitano galloping boldly around an obstacle course, the horse and rider dressed sharply in traditional Portuguese tack and attire, I was fascinated by the combination of excellent training, partnership, and incredible fun. I was at a point in my professional career as a trainer and instructor where I needed something fresh and new to keep my students and me engaged. I felt my horses needed the same change. I wanted to put more purpose into my training, yet continue to develop my education of classical dressage. Being deeply involved in the preservation and promotion of Spanish Barbs, this looked like a great discipline in which my horses would excel.

Soon after, I participated in my first Working Equitation Clinic (WE) and loved how my horse felt under me as we navigated the different obstacles. WE was a perfect match, setting me on a course which has since profoundly influenced me as a professional. As an Event rider in the early 1990's, then switching my focus to teaching Natural Horsemanship and the connection it has to Dressage, my two passions have been combined in Working Equitation."

---
WE AWARDS AND RECOGNITION

Equine Affaire, MASS. Working Equitation Demonstration rider with Suzanne Marshall

Earned National Working Equitation Professional status with The Confederation for Working Equitation.
2019 National Reserve Champion at Level 4 on her Spanish Barb, El Moradito.
National Top Ten at Level 2 and 3 on her Spanish Barb, Augustine.
Coached junior rider Alyx West to National Championship at Level 2 on her Spanish Barb Maya.
Region 6 Level 4 Champion on El Moradito
Region 6 Level 3 Champion on Augustine

Provisional Technical Delegate
Championships and Reserve Championships at Level 1 on Spanish Barb RE Wayward Winter
Reserve Champion at Level 1 on Spanish Barb Adelantado.
---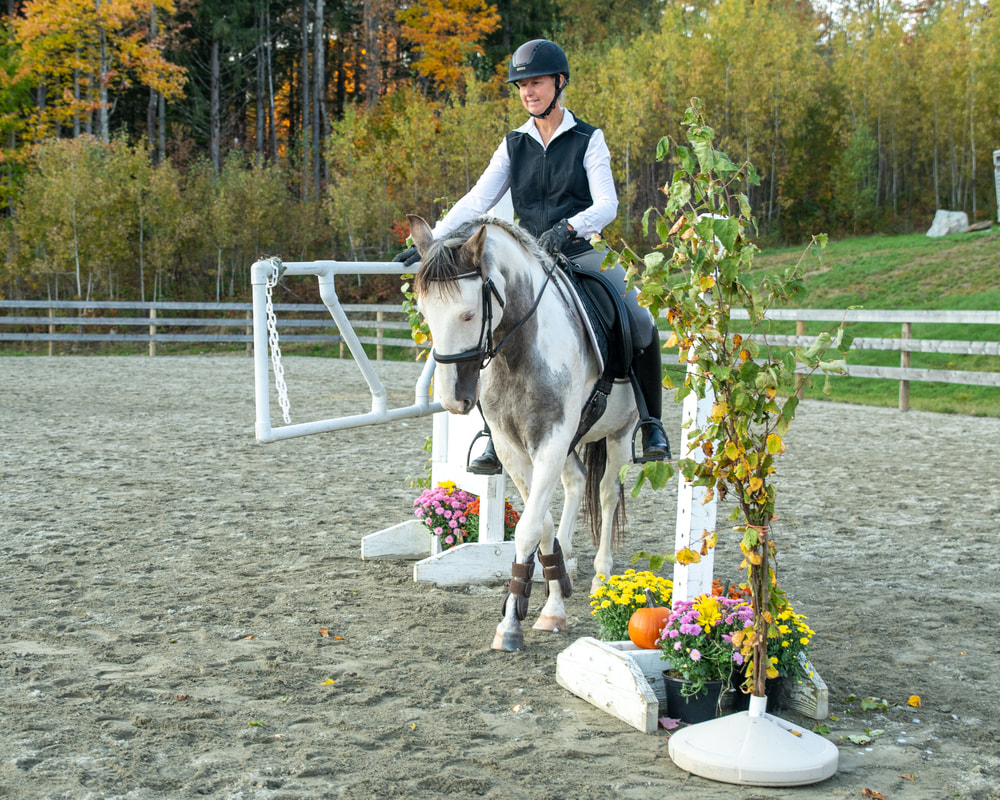 WHAT IS WORKING EQUITATION?

Working Equitation (WE) originated in Spain, Portugal, Italy and France with cattle ranchers who manage their livestock from the backs of their agile and brave Iberian horses. The first competition was held in Europe in1996.

Working Equitation is fairly new to the United States, and is the fastest growing equine sport in the nation, attracting riders from all disciplines including Dressage, Reining, Jumping, Ranch and Trail Riding. Working Equitation is a working sport that combines the fundamentals of Dressage with the precision of riding through a series of various obstacles. WE is an exciting and fun sport that fosters good horsemanship and camaraderie among its enthusiasts.

Riders in the U.S. can progress up through seven levels of competition beginning with walk and trot and leading to the upper levels where their horse performs its trials with the highest degree of collection, precision, speed and partnership.

Horses of every breed and size, including gaited horses, are excelling in the sport. Unlike many other disciplines there are no restrictions to saddle type and show attire allows for personal style. A wide variety of bits, bitless bridles, and hackamores can be used.

---
'Working Equitation consists of Four Phases (Trials)
Dressage
- A test of movements ridden in a 20m x 40m dressage court which showcases the level of training of the horse with a focus on the quality and adjustability of gaits, balance, and harmony between horse and rider.
Ease of Handling (EOH)
- The horse and rider complete an obstacle course requiring suppleness, precision, obedience and partnership such as carrying a
Garrocha Pole
and spearing a ring, opening and closing a gate, crossing a bridge, riding a figure 8 and other obstacle challenges that test the maneuverability and balance of the horse to perform work in the field.
Speed -
Riding the obstacle course at the smoothest and fastest gait for the horse and rider's skill level.
Cattle Trial
- The horse and rider work livestock as a team with three or four other riders separating out a cow and moving it into a pen at the other end of the arena. Not every WE competition will offer a cattle trial and this trial is optional.
RESOURCES:
USA Working Equitation
(USAWE
)
The national governing organization of the sport
www.usawe.org
New England Working Equitation, Inc.
(NEWE)
- A non-profit organization that promotes the sport in the Northeast by hosting clinics, shows and educational events.
www.newenglandwe.com
World Association for Working Equitation
(WAWE
)
the international governing association
www.wawe-official.com
---
---

STEPHANIE HAYES 2022 SCHEDULE


March 12 WE Clinic, Bishop Stable, Smithfield, RI

April 7-10 Equine Affaire, Columbus OH

April 23 WE Clinic, Sea Star Stable, Brentwood, NH
April 24 WE Clinic, Thankful Hearts Farm, East Bridgewater, MA
​
May 14 WE Clinic, Center for America's First Horse, Johnson, VT
May 15 WE Practice day - ride a test, private sessions.
Center for America's First Horse, Johnson, VT
​
June 11 WE Clinic, Viridian Farm, Fort Edward, NY


For more information, to book a lesson, clinic or demonstration please contact:



Stephanie Hayes
PO Box 22, Johnson, VT 05656802-730-5400

vtblackpony@aol.com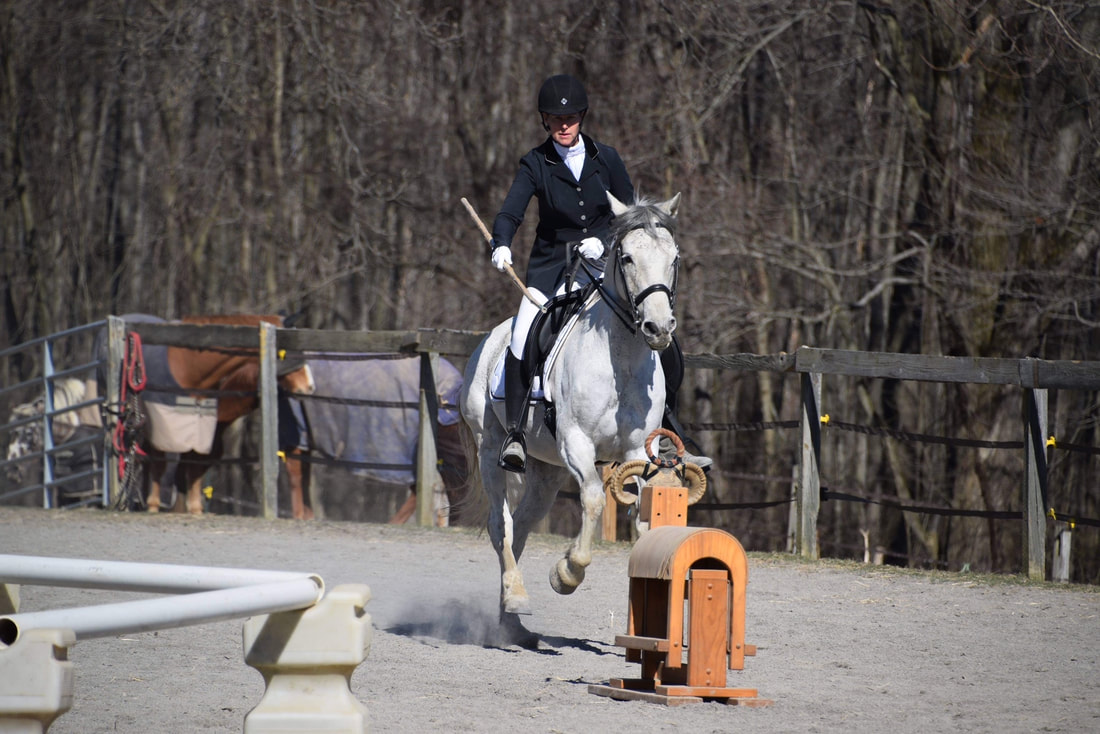 *We are a Vermont non-profit corporation and federal 501(c)(3) non-profit organization.