Board of Directors

Stephanie Lockhart, Founder and Educational Program Director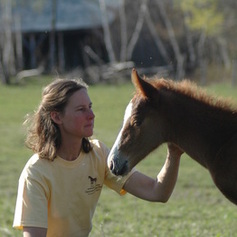 Stephanie grew up riding in California. When Stephanie moved to Vermont in 1987, she began to focus on dressage and jumping. She became a freelance instructor, trainer and coach of students of all ages and levels. Always looking for better ways to help people and horses, Stephanie learned more about the modern natural horsemanship movement and began her journey.
The path which has led to the creation of The Center for America's First Horse began in 2004 when her young daughter, Eliza was unexpectedly gifted a Colonial Spanish colt named
Adelantado
. Through him the unique qualities of the breed were discovered. Months later more Colonial Spanish horses would follow him to Vermont.
She spent the next 4 years managing Red Road Farm owned by Hollywood screenwriter, John Fusco. Working in conjunction with equine geneticist, Dr. Phillip Sponenberg, the Choctaw Indian Pony Conservation Program was formed. Stephanie was the manager, trainer and promoted the Choctaw horses. In 2008 she traveled to NM with her horses and spent the year promoting the breed and natural horsemanship. During this time Stephanie was the trainer and horse specialist in equine assisted psychotherapy at the Sandhill Child Development Center in Los Lunas, New Mexico. Her horses contributed to the healing process of many of the clients while she facilitated the equine sessions along with a licensed therapist.
Stephanie Lockhart is a Natural Horsemanship clinician, visiting instructor at Johnson State College and the founder and Education Program Director at The Center for America's First Horse Inc. in Johnson, Vermont. The Center is home to the largest and most diverse group of Spanish mustangs in the eastern United States and offers Natural Horsemanship and Equine Facilitated Learning.
Stephanie represents the Spanish mustangs in breed and natural horsemanship demonstrations throughout New England. She conducts clinics, classes and private sessions in the United States and Western Europe for both English and Western riders of all disciplines and ages from beginners to advanced. Following in the tradition of The Spanish Riding School, Stephanie begins her horse/human relationship program with groundwork.
Stephanie has appeared in numerous television, magazine and newspaper stories. Stephanie has been featured in Vermont Life magazine, Horseman's Yankee Pedlar and the cover of New Mexico's Horseman's Voice magazine along with many newspaper articles. Most recently Stephanie was profiled in Equine Journal Magazine along with world-renowned European Dressage Master Walter Zettl and America's Natural Horsemanship Clinician Greg Eliel to share how all three utilize the same principles in both Dressage and Natural Horsemanship training.
She is an active member of the Horse of the America's Registry (HOA). Stephanie was awarded the HOA Ambassador award in 2008 and 2010. Her gelding
Morado
was awarded the 2008 HOA Sport Horse of the Year and the Sundance awards. Stephanie was honored with the 2010 "Keeper of the Flame" by the American Indian Horse Registry.
"Natural horsemanship begins by interacting with the horse from the ground, gaining it's trust and respect. The principles are based on understanding the nature of horses and communicating with them in the ways they understand. Body language, feel and intuition are used to control the horse instead of force, intimidation or gimmicks. Once a working partnership is established then riding becomes a safer and more enjoyable experience for both horse and human."
---
Mary Anne Machis, Executive Director and Webmaster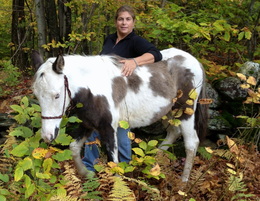 Mary Anne has acquired degrees in Marketing/PR, Outdoor Education, Art, Human Ecology and Web Design. At the Hurricane Island Outward Bound School, Mary Anne's teaching abilities and love for the outdoors were combined to help many students, teachers and professionals with self confidence, esteem building and teamwork through instructive wilderness experiences. While living in the Metro Boston area Mary Anne was employed by REI (Recreational Equipment, Inc), as their Special Events Planner, Master Technician and trainer for over 11 years. She has extensive fundraising experience with nationally recognized non-profit organizations, helping raise millions of dollars for charity. Mary Anne is an avid outdoor sportswoman and photographer.
---
Elsie M. Brennan, Treasurer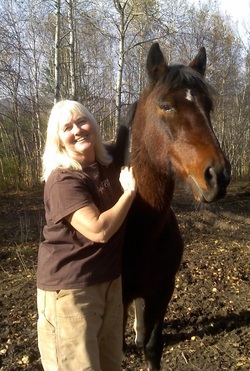 Elsie holds a Masters degree +30 advanced graduate study credits in counseling. She enjoyed 35 years as an educator and counselor in a Boston area high school. Her skills include: crisis counseling, peer counseling, group dynamics, relationship building and college admissions. While living in Boston, Elsie had a personal counseling private practice for college students. Her repeated successful experiences focus on peer work with students and parents. Elsie's coordination of many varied volunteer and event programs showcase her interpersonal skills, warm heart and dedication to helping others.

Elsie's lifelong love for horses began as a child when she would save throughout the year to take riding lessons at Cape Cod in the summer.

---
Deirdre O'Malley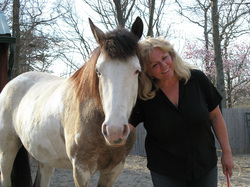 Being involved with and owning horses have been a lifelong dream of Deirdre's. She has been a full time practitioner of massage therapy, Young Living Essential Oil therapies, and various energy healing modalities for over 20 years. She and her husband own three special horses and a variety of other pets at their Mustang Magic Ranch in Long Island, New York. Deirdre's commitment to the breed continues by representing The Center in her region.
---
Cher Feitelberg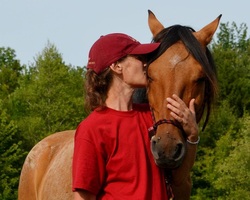 Cher is a Program and Curriculum Development Consultant & a Classroom Teacher at Charlotte Central School where she's taught for twenty-three years. She has a BS in Human Development from The University of Vermont along with a Masters in Special Education from Lesley College. Cher worked as a social worker and teacher in residential settings serving emotionally and behaviorally challenged children and their families. She develops integrated, project-based curriculum that ensures that children meet high standards of education through meaningful work. She has created and facilitates The Pease Mountain Stewardship and Forces of Nature Programs which provide University of Vermont Environmental and Natural Resources students with the opportunity to complete a student teaching internship in their field. Cher trained with the Animals As Intermediaries Program in Concord, Massachusetts and is also a certified trainer in the Circle of Courage and Response Abilities Pathways models.
---
*We are a Vermont non-profit corporation and federal 501(c)(3) non-profit organization.