Donate, Take Action, Get Involved
There are many ways you can assist us with our efforts. Consider a financial contribution, donating goods or services, volunteering, providing an item from our
wish list
or simply spreading the message of our mission to others. Every financial contribution is greatly appreciated and tax-deductible.
Make a Monetary Donation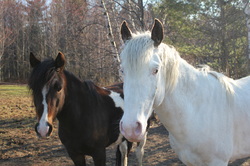 Please consider making a donation to The Center for America's First Horse!
Donations can come in many forms:
financial, equipment, feed, supplies and services.
No donation is too small!
The Center For America's First Horse is a Federal 501(c)(3) non-profit organization and Vermont non-profit corporation.
So, your donation is fully tax deductible.
---
---
On-line Shopping donations

---

Participating iGive On-line Stores

---
_

Fund Destiny's Legacy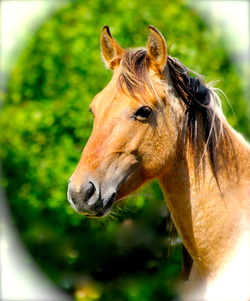 Destiny's Legacy is a program of services named in honor and memoriam of Destiny, a young Spanish mustang filly raised at The Center who tragically passed in 2013. Destiny's precocious spirit and potential as one of our meaningful teaching horses, remind us that every living being strives to reach its highest creative self through a sense of belonging, exploration, balanced living, health and fun.

The Center offers opportunities & tuition scholarships for people to find their own paths toward personal growth and inner strength in safe, interactive relationships with our horses. We develop and deliver programs for under privileged children/youth, individuals, and families through the unique experiential learning opportunities with our rare horses. Your donation will allow The Center to provide equine programs supporting people, enhancing their potential thus inspiring their "destiny" through experiential learning with horses.


---
Give a Gift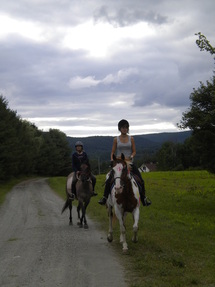 Looking for a meaningful gift for a special occasion? Our
gift certificates
make a fantastic gift for a birthday, wedding, new baby, graduation, holiday, thank you, tribute or any celebration. Gift certificates are valid for lessons, clinics, workshops, donations, sponsoring a horse and e-store merchandise.
---
Business and Corporate Sponsorship




With former VT Governor, Jim Douglas


For a sponsorship of $1000 or above, your business or company will be entitled to:
*Name and logo on the home page of our website
*Name and logo in our promotional materials
*Special recognition at our events
*Permanently listed on our supporter's plaque

---
Employer Matching Gift Fund
Does your employer offer a matching gift fund? If so, be sure to speak with them about matching your gift to The Center for America's First Horse, Inc. If your employer has established an Employee Contributions Club that funds local grants, let us know. We will be happy to submit a grant request that will help support The Center for America's First Horse, Inc.

Volunteer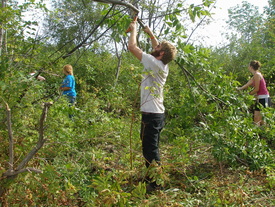 The Center welcomes volunteers to help us with many different projects. From helping care for the horses to assisting in fundraising and development, we can find a task for you! Those with skills in grant writing and event planning are always needed. This gift of time will provide a meaningful experience for you. Please complete our
volunteer registration form
!
You don't need to be in Vermont to volunteer. You can fund raise, write grants, advance our marketing and social networking efforts in your area. Please email us at
volunteer@centerforamericasfirsthorse.org
.
---
Tell a Friend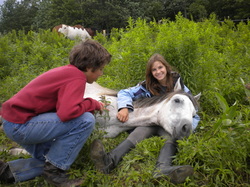 Help us spread the word to your friends, family, colleagues, organizations and local community & social media.
---
Send The Horses a Card!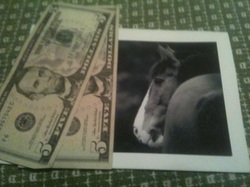 Send a card to our horses and include a $1.00 bill. If you'd like to send more that's wonderful but a dollar will do. Each card will read to the horses. Please post this on your FaceBook page and pass it along to everyone you can. Spreading the word in any means is helpful. Many people contributing a little works and goes a long way. Please send cards to:

The Center for America's First Horse, Inc.
P.O. Box 31
Johnson, VT 05656


---
*We are a Vermont non-profit corporation and federal 501(c)(3) non-profit organization.