The Center's E-Store
Order Your 2017 Calendar NOW!


Featuring twelve extraordinary photographs of the rare Spanish mustangs from The Center for America's First Horse. Photography by Morgan Quimby.


Printed on 8.5' x 11' high gloss, heavy stock paper, each image is a masterpiece suitable for framing.

100% of all proceeds benefit The Center for America's First Horse, a nonprofit organization in Johnson, Vermont.

$14.99

---


A CFAFH gift certificate is a wonderful gift for any occasion. Gift Certificates can be used to:
Purchase lessons

Natural Horsemanship for Children summer camp

Clinics

Workshops

Items from our e-store
Sponsor a child or horse with a gift certificate
As a donation.
---
---
Autographed copy & Free shipping $30.00

Riding Home : The Power of Horses to Heal by Tim Hayes
Foreword by Robert Redford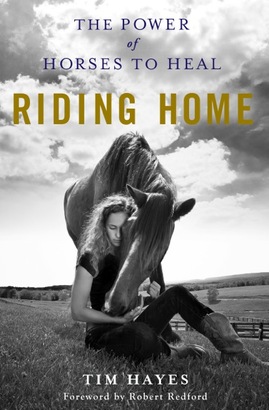 Millions of people — horse owners and non-horse owners alike — have discovered the amazing abilities of horses to help us heal and recover from disabling physical and mental conditions such as autism and multiple sclerosis by participating in what is known as Equine Therapy. Now something quite extraordinary has been discovered about the ability of horses to help humans. Men and women afflicted with severe emotional damage are healing and making dramatic recoveries by receiving the simple love, understanding and acceptance that comes from establishing a relationship with a horse.

"Tim Hayes [is] a great storyteller blessed with passion for his subjects, horse and human. The lessons you'll take away from this beautiful volume of healing and love between man and nature will stay with you for a long time."—from the foreword by Robert Redford.

By ordering through us you will be securing your author autographed copy of this fabulous book, a donation to The Center and FREE shipping.

---
---
Hidalgo DVD & Autographed Photo $30.00

Frank T. Hopkins, a real-life long-distance horse racer who, as the movie opens, has witnessed the appalling massacre of Native Americans at Wounded Knee in 1890. Drifting into Buffalo Bill's Wild West Show, he agrees to compete, with his trusty mustang, Hidalgo, in "The Ocean of Fire," a treacherous 3,000-mile horse race across the Arabian desert. Included is an autographed photograph of Oscar who played Hidalgo in the action scenes of the film.


---
---
Natural Horsemanship Rope Tack & Tools
The Center is excited to be partnering with Handcrafted Jewelers Rope Horse Tack. 15% of your purchase will be donated to The Center when ordered through this link. Check out some of the equipment I suggest, whether purchasing your first rope halter or adding to your collection of rope equipment. Custom orders are also available.

Keitha, owner of Handcrafted Jewelers is a long time producer of rope halter, leads, reins and other natural horsemanship rope equipment. Her high quality and affordable products, along with great customer service are reasons why I've been a satisfied customer for years.

To order Natural Horsemanship rope tack on-line, please click here.
---
---
---
*We are a Vermont non-profit corporation and federal 501(c)(3) non-profit organization.