Rescue Update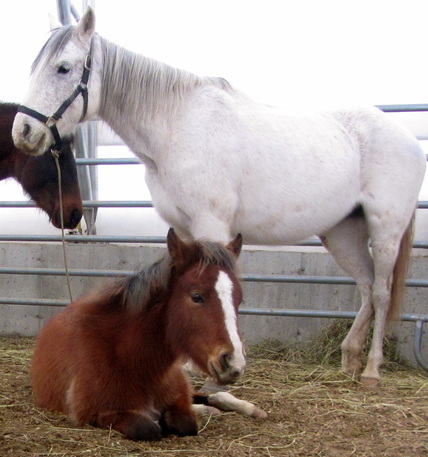 On January 25, 2012 after 4 days on the road, the rescue horses from Baca Chica Farm in New Mexico arrived safely at The Center for America's First Horse. Thanks to the many donors coast to coast who contributed financially to the efforts, we are now able to provide these amazing horses with everything they will need. The caring and professional transport job of
Troja Horse Transport
made sure they arrived quickly with no unnecessary stress.
The horses have settled in nicely, getting into a daily routine and being socialized with both people and the other equine residents of The Center. The significant change in climate has not affected the new horses, they are acclimating to the cold temperatures and putting on weight at a normal rate.
The horses have already had many visitors and media attention, their roles as ambassador horses have already begun!
Please consider donating.
Your contribution, no matter how large or small, will go directly to caring for these five rare Spanish mustangs.
---
---
Help Rescue Rare Horses in Need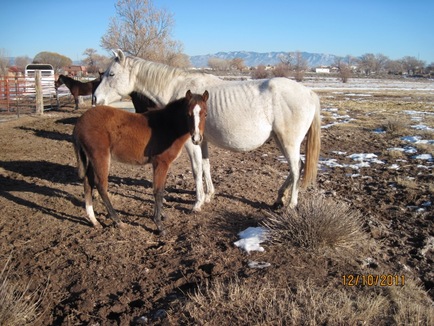 _
The Center has recently been notified that a rare and unique herd of Spanish mustangs are sadly being dispersed. From one of the last original families who have bred Colonial Spanish horses for decades, the time has come for them to place individual horses into the hands of others. The Center for America's First Horse has been asked to take on one stallion, a mare and her 2011 filly at her side, and an 11 year old broodmare. The horses must be moved immediately! The owners are not able to support or care for them much longer. We must act now!
We want to bring this breeding group to The Center to continue their legacy. The Center for America's First Horse will be the only facility to have a stallion and mares from these rare bloodlines. A number of offspring of this group of horses already resides at The Center and are proven performance and ambassador horses. Our purpose as a non profit organization is to assist in rescuing Colonial Spanish horses in need, and aid in genetic conservation. An opportunity awaits these horses.
Our organization is ready to bring these horses to Vermont as soon as funds are raised to ship them. The mare and filly, the stallion and broodmare are waiting for us to raise funds before they can come to their forever home at The Center in Vermont. It is critical that these horses be transported before our winter weather sets in for good.
Please help us assist these horses by making a donation of any amount. If you can't give financially, consider a donation of goods or services which could be sold or auctioned on Ebay. Your contribution is fully tax deductible and will go to the transportation, feeding and care of these horses.
---
A letter for Help

_
Sometimes the best thing you can do is the hardest thing you have ever done.
As I sit here recalling and writing the story of the record breaking drought and heat that brought bitter destruction to our state and our farm this year, ironically, I look out my window and it is snowing outside. This year has been one of the most emotional years that I have ever experienced. But our faith will carry us as it always has. We are a very blessed family and fortunate to live in a community of people with tremendous goodwill and love. "Lift it up to the Lord," my Mom always says. She is and has always been right.
2011 went down in history as the driest, hottest summer on record in New Mexico. No rain for months, no grass on the field where our horses graze, just dead barren ground. Hay was at $9 to $12 dollars a bale. No breeding for years and years and as timing would have it we were blessed with 8 new foals this year.
Going through times like this just breaks something deep inside of you. These animals depend on you and everything inside of you is crying with despair about where their next meal is going to come from. Fortunately our farm has been a recognized part of the community for over 60 years. It was the most rewarding feeling when we finally reached out and felt the most overwhelming sense of support. It is so frightening how in a matter of weeks a healthy mare can drop weight when she has a foal by her side, even though you are doing your best to feed them.
I want to share our story because there are times when these situations are real and innocent and not at all a result of lack of love or due to neglect. We worked desperately to help them. We had 4 mares that dropped weight. They were of course the low horses in the "pecking" order. As a family who loves their horses we made the very difficult decision to place our precious horses. Within a couple of weeks they had all been placed or reserved. The mares are fine now; I think our recovery will take longer than theirs.
I recall, as I watched while we loaded each of these horses onto the trailer, I saw my father's eyes well up as he said goodbye to each one of the horses individually. Each he had known from birth. Blessing them and just saying a few words just like you would a really good friend. It was just so hard to breath and tears fell from my eyes. His life's work was the preservation of this breed. I knew what he felt, he would never hurt them, and they always came running when he called them. He just wants the whole world to know how important they are, but more than anything he wanted them to be taken care of. Only a few months ago he suffered a severe sub dermal hematoma. Dad wasn't supposed to survive and once again here he is, but he realizes that it's time that we hand off that proverbial baton. It was so hard to see him say goodbye but we knew that it was the right thing to do and the right time. And poetically in the end, from the dust, broken hearts and tears as we sit looking at each other feeling so confused, we suddenly realized that all our dreams, all our prayers, and all our promises have been fulfilled. We simply couldn't ask for a better future for our Horses. Our "Baca Chica" horses will live on helping children at the Sandhill Child Development Center with Linda and Ralph Zimmerman, our angels, and with Stephanie at "The Center for America's First Horse". Stephanie and her family were sent to us in such a miraculous way so many years ago. Our hearts are overflowing with how grateful we are for the kindness they have shown us. In addition, we will continue to raise awareness with the help of Mary, Maxine, Tina and Greg Parra, Carla, Linda and Bruce. We can continue to offer breeding services with our 2 stallions. And enjoy our small group that we will maintain at Baca Chica Farms. A new plan, but the same passion for the preservation of the Colonial Spanish Horse.
We are working hard to raise funds to get a small herd up to Stephanie & The Center For America's First Horse in Vermont. Anything anyone can do to help would be greatly appreciated. Contributions will go directly to transportation, feeding and care of the horses and will be 100% tax deductible.
Please help!
Annette
Baca Chica Farms, New Mexico