Spanish Mustang Sponsorship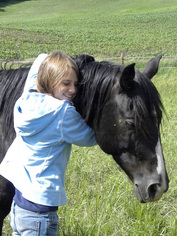 The Center for America's First Horse, Inc. is home to the largest and most diverse group of
Spanish mustangs in the eastern United States.
We showcase a variety of rare strains, colors, and endangered bloodlines.
Each horse that resides with us in Vermont has a unique character and history all his/her own!

Sponsorships make meaningful gifts and touching commemorations.
Become a Sponsor now and begin your special connection with a rare Spanish mustang today!
---
Providing feed, hoof care and routine health services for your chosen horse.
Contributing to the overall Colonial Spanish horse conservation efforts at The Center.
Invited to a private tour of our facility to meet your sponsored horse.
Included in our list of supporters and donors on The Center's

website.
Entitled to receive an official sponsorship packet which includes a photograph of your horse & regular e-mail updates.


With a yearly sponsorship you will additionally receive a CFAFH logo T-shirt.
Horses available for Sponsorship
We accept Mastercard, Visa and Discover credit cards, bank debit cards, checks, money orders and PayPal.
If paying by check or money order please print and mail this form with your payment to:

The Center for America's First Horse, Inc.
PO Box 31,
Johnson, VT 05656
.
For more information contact us at
info@
centerforamericasfirsthorse.org
or call (802) 730 - 5400.
Thank you!
*We are a Vermont non-profit corporation and federal 501(c)(3) non-profit organization.